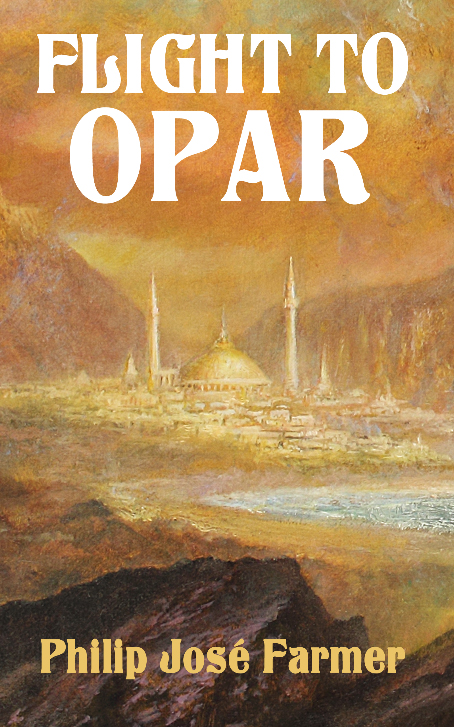 by Philip José Farmer
Volume 2 in Philip José Farmer's Khokarsa series
Meteor House Restored Edition edited by Christopher Paul Carey
Introduction by S. M. Stirling
Cover art by Bob Eggleton
This never-before-published Restored Edition of Philip José Farmer's Flight to Opar—available as both an affordable trade paperback and a collectible limited edition hardcover—features almost 4,000 words that were cut from Farmer's original manuscript when the novel was published in 1976. Meteor House's Restored Edition is the first and only publication of the novel ever to include the excised material, which encompasses long passages of narrative, dialogue, and rich world-building details on Ancient Opar and the civilization of Khokarsa that readers have never previously been able to enjoy—until now.
Hadon of Opar was the winner of the Great Games and the rightful claimant to the throne of Khokarsa, a mighty empire that stretched along the shores of ancient Africa's great inland seas. But the old king has refused to surrender his power, and Hadon finds himself caught in the middle of a bloody civil war between the zealous priests of the sun god and the beneficent priestesses of  the great mother goddess.
Now a divination of the oracle hurls Hadon on his most dangerous adventure yet. With a tyrant's armies and warships hot on their heels, Hadon and his companions must set out on a journey through perilous jungles and across storm-wracked seas to reach the city of his birth—for only in far-flung golden Opar can he fulfill the oracle's prophecy and save the land from utter doom.
Publisher: Meteor House, 2015
Signed Limited Edition Hardcover
ISBN: 978-0-9905673-1-8
List Price: $30.00
Publisher: Meteor House, 2015
Trade Paperback
ISBN: 978-0-9905673-2-5
List Price: $20.00
---
Buy now:
Hardcover: Meteor House (SOLD OUT)
Paperback: Amazon US | Amazon UK | Barnes & Noble | Meteor House
Ebook: Kindle US | Kindle UK | NOOK
---
Bibliographic info: Click here.