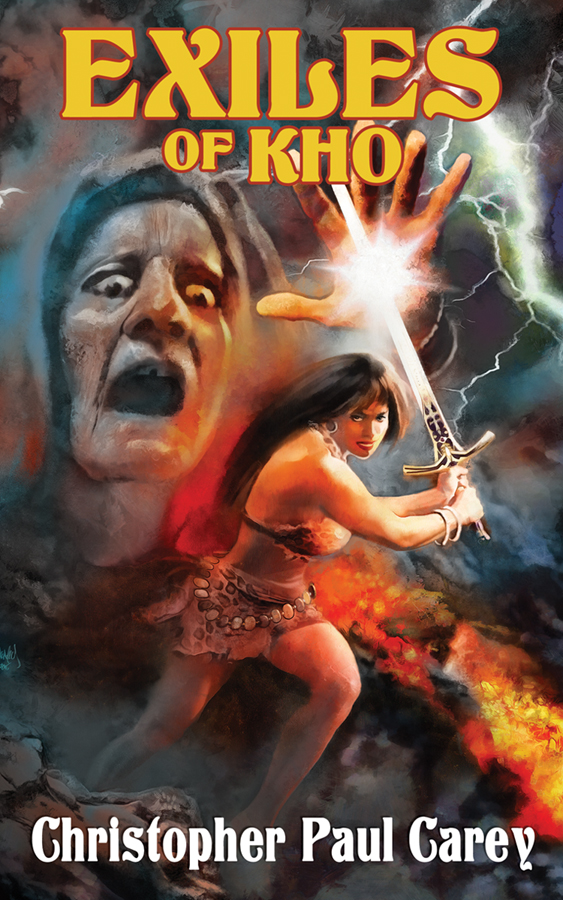 By Christopher Paul Carey
A prelude to Philip José Farmer's Khokarsa series
Cover art by Mark Wheatley
Hundreds of years before the hero Hadon sailed forth from his shining city of gold and jewels upon his legendary adventures, the heroine-priestess Lupoeth set out upon the decree of the oracle to discover a new land upon the untamed shores of ancient Africa's southern sea. But Lupoeth finds herself little prepared for the trials ahead, as well as those that follow upon her heels—for the jealous queen who wants her rival banished has appointed a worshiper of the sun god as the expedition's priest, hoping to undermine the mission and seal its doom.
Now, lost in the deep jungle, Lupoeth must fight to keep her ill-equipped band of followers alive in the face of deadly beasts, savage Neanderthals, and conspiring enemies. Soon she finds the most accursed deity of her people's faith, exiled from the empire by the Great Goddess Kho Herself, may be her only ally in this wild land. But Sahhindar, the god of Time and bronze, has a mysterious agenda of his own—one that Lupoeth fears might spell doom not only for her expedition, but for the entire world…
Publisher: Meteor House, 2012
Signed Limited Edition Paperback
ISBN: 978-0-9837461-2-6
List Price: $15.00
Publisher: Meteor House, 2015
Signed Limited Edition Hardcover
ISBN: 978-0-9905673-3-2
List Price: $25.00
Buy now:
Hardcover: Meteor House (SOLD OUT)
Paperback: Meteor House (SOLD OUT)
Ebook: Kindle US | Kindle UK | NOOK
---
Bibliographic info: Click here.